Best
School Cleaning Services

in Sydney
We help keep your school premises free from bacteria and germs and your students healthy. A clean school environment means fewer absentees.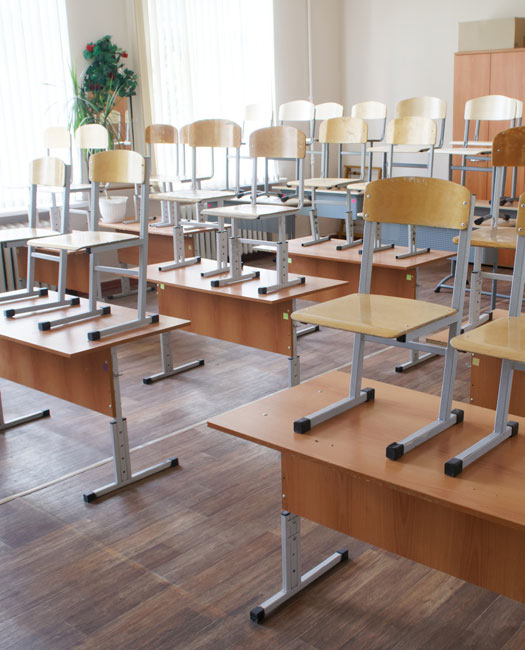 Why hire professionals
Cleaning Services for Schools

in Sydney?
We believe that the hygiene and cleanliness of your school property are crucial for the students, teachers, parents, and guests' experience, and experience fresh, clean, and hygienic areas on the premises.
We achieve this with our trusted team of highly trained members and police checks.
There are three vital requirements for cleaning success at a school or any other educational facility:
Cleaners: We choose the best of the team who are well experienced & verified personnel.
Consistency: With the set procedures we follow, we guarantee to consistently provide similar standards of work.
Communication: Continuous supervisor visits and communication before and after cleaning the premises.
Sparkleen
Professional Cleaners for School in Sydney!
Experts at Sparkleen Cleaning Services have been serving the industry in Sydney for 15+ years. They have expertise in managing the cleaning needs of your school, colleges, universities, or other educational premises. Whether it's after-hour cleaning or during school time intermediate cleaning, our team strives to serve you the best way they can. Our staff is well versed in working with children and has a friendly approach. Our cleaning resources are sustainable, and our cleaning process is safe for kids.
Why is Sparkleen the best choice for
cleaning services at schools in Sydney?
We provide classroom and common area cleaning.
We also offer changing room cleaning.
We clean playgrounds, the cafeteria, and other areas of the school.
We clean the computer room, laboratories and more.
Our staff cleans the sports hall, staffroom, and other school spaces.
We leave you with clean office space at school.
Our cleaning staff leave no place untouched and clean the communal area and other areas.
We deep clean the Kitchen and leave a fresh and positive atmosphere.
Why are we the best
school cleaning service

providers in Sydney?
With years of cleaning experience for schools in the public and private sector and child care centres, we understand what it takes to meet your needs and provide services to keep your school premises clean and hygienic.
Our commitment to cleanliness extends well beyond just the classrooms at your school. We strive for perfection and are inclined towards client satisfaction.

Our experienced team understands the importance of their work at schools and childcare centres and projects their sense of pride in everything they do.

Using the initiative of our skilled staff, their exceptional eye for detail, and a pre-planned and systematic approach to all of their daily cleaning tasks, we ensure they are super productive and efficient.
Are you looking for reliable
school cleaning services?
We have worked hard to build an excellent reputation for supplying the highest quality of service and keeping our prices competitive. We have all the necessary resources to ensure our staff clean floors correctly. Sparkleen Cleaning guarantees to find a cost-effective solution to any of your educational institute cleaning requirements, offering 24/7 support and a dedicated client manager to assist you in any way they can.
What do we cover under
school cleaning services?
Edge-to-edge vacuum
Mopping of all hard floor
Dust all furniture, computers and Desk
Clean Skirting Boards
Dust window sills, wooden doors
Tidying up the room
Dust door handles
Window Cleaning Inside/Outside up to 2metres
Sanitising light switches
Does Sparkleen provide non-toxic cleaning supplies compatible with children?
Yes, we are aware of the environment and health aspects of the children and provide sustainable supplies that are quality-checked to remain 100% non-toxic and harmless for children.
Is Sparkleen insured to cover any property damage after cleaning?
Yes, Sparkleen is fully insured to cover any damage during or after cleaning your premises. Moreover, our trained and professional personnel have mastered the art at its finest. They are equipped to handle any unforeseen incident and promptly replace damaged items in the best way possible.
What areas does Sparkleen cover as part of the cleaning service?
We cover the entire premise of the school, leaving no exceptions. We cover classrooms, laboratories, playgrounds, offices, other spaces, bathrooms and more.