Professional
Carpet Cleaning Services

in Sydney
Sparkleen provides the best residential & commercial carpet cleaning services for a fresh and dust-free premise of your establishment in Sydney.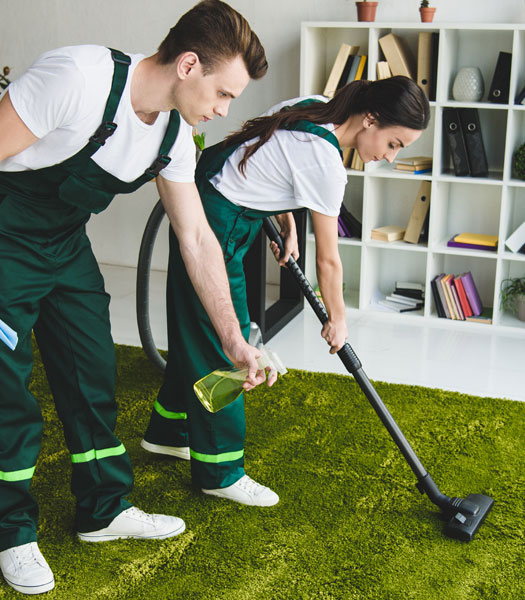 Why do you need Professional
Cleaning Services for Carpet

washing?
Sparkleen Cleaning Services' carpet washing provides expert washing and helps retain the liveliness and freshness of your carpets.
Our professional carpet cleaners scrub and wash your carpets from end to end to offer an exclusive clean that lasts for months. If you choose in-house janitors for cleaning carpets who lack experience, you may have to hire professional carpet cleaning services again. Sparkleen provides new-age carpet steam cleaning services for custom-made carpet cleaning at affordable prices.
Professional
Carpet Cleaning Services in Sydney!
Sparkleen Cleaning Services provides exclusive dry carpet cleaning services along with carpet steam cleaning, stain removal, shampooing, sanitisation, disinfection, and carpet restoration. Our reliable and dedicated carpet cleaning services in residential and commercial establishments strive to provide work satisfaction to our clients.
How Sparkleen can be your best professional for
Carpet Cleaning Services in Sydney?
We are trustworthy and reliable.
We offer affordable packages.
We provide devoted staff and non-toxic supplies.
We are prompt to respond and revert as soon as possible
We are accurate and dependable
Our professionals are engaging and good-natured
We follow all standard hygiene protocols
Why is Sparkleen Cleaning Services the best choice for carpet cleaning?

We do not make false claims and assure to fulfil all our promises to provide the best Sparkleen cleaning services' carpet washing. Our authenticity stands out and has helped us provide valuable services for numerous clients.

All our cleaning equipment is of the best grade and is regularly quality checked to ensure excellent cleaning outcomes. Our top-class equipment assists us in meeting all your carpet cleaning needs.

Sparkleen professionals do not leave a single stain unattended and aim to provide exclusive carpet cleaning. They follow standard cleaning procedures and ensure thorough carpet cleaning.
We use pressure wash cleaning for complete carpet restoration via intensive pressure cleaning that helps cast away dust particles from the interior rug fibres.
How often should a carpet be cleaned?
Carpets are prone to the accumulation of air-borne dust particles. The amount of dirt accumulated varies from the carpet positioning and the foot traffic experienced in that area. The ideal interval for carpet cleaning is once every three-four months. However, carpet cleaning should be more frequent in a commercial space, i.e. washed every month, as it gets dirty more easily.
What are the classifications of carpets covered in your cleaning?
We offer carpet cleaning for a wide variety of carpets like nylon, shag, wool, velvet, acrylic, Saxony, or olefin. Our carpet cleaning protocols vary depending on the different carpet types. We ensure the carpets are properly cleaned and do not undergo any damage.
Does Sparkleen provide all cleaning supplies and equipment?
Yes, Sparkleen supplies all cleaning materials and resources, so the clients do not have to buy the products. We include all cleaning supplies in the package and do not miss out on any item crucial for the cleaning procedure. Our tailor-made packages, prices, skilled cleaners, non-toxic supplies, and equipment add value to your investment.
What happens if there is carpet damage?
Sparkleen Cleaning Services is fully insured. We train our cleaning staff to manage any unforeseen damages if they occur during the cleaning procedure. The cleaning staff are highly efficient in handling the equipment, so such incidents are rare. However, if there is any damage to the carpet, do not worry. We are insured to restore the damaged item in a given time.
What is the cost of carpet cleaning?
The prices of carpet cleaning differ based on various factors – the type of cleaning requirement, type of carpet, duration of cleaning and others. Therefore, Sparkleen Cleaning Services provides bespoke packages depending on the need of the client to suit their cleaning requirements. Our experts will speak with you to analyse your needs and then offer a free quote.
You can get in touch with us @ 0449 047 802 anytime between 5:30 am to 11:30 pm, and we will answer all your queries and respond to your needs. We strive to provide the best carpet cleaning experience and operate 24/7 hours to suit your needs.