Gym Cleaning in Sydney

Made Easy!
Our gym cleaning services will leave you and your customers in awe of our perfection. Sparkleen provides pristine cleaning and a healthy and hygienic gym for your customers. Here is what makes us the best gym cleaning service company in Sydney: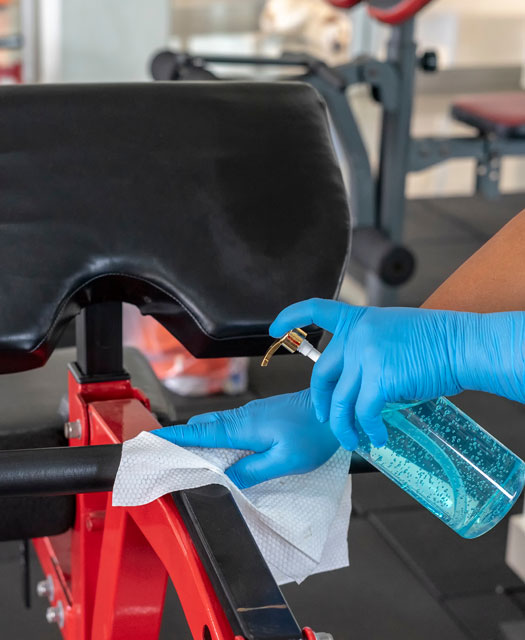 Why opt for a
Gym Cleaning Service

in Sydney?
Choosing a gym cleaning service over an in-house staff is ideal as they later may not be up to the challenge that gym cleaning poses beyond surface cleanliness.
However, our cleaning services do not burn a hole in your pocket. Our sustainable and toxic-free supplies are eco-friendly, and our equipment is of a high standard.
We follow a precise procedure of vacuuming, cleaning, and disinfecting the gym at a reasonable price. Our cleaning staff ensures smooth completion of the process, and your customers feel comfortable in the gym, helping your business to thrive. Sparkleen enables you to create a welcoming and hygienic gym for your customers and assists you in maintaining a clean environment.
Avail the Best
Gym Cleaning Service

in Sydney
Why is Sparkleen the most recommended
gym cleaning service

provider in Sydney?
We are a reliable cleaning service provider
Our packages are budget-friendly
We strive toward customer satisfaction
Devoted staff and sustainable supplies
Prompt service delivery time
We are precise and punctual
Our professionals are friendly and helpful
We abide by all hygiene protocols
What makes Sparkleen's Gym Cleaning Services so unique?
All our equipment for cleaning your premises is of the best quality to ensure the most satisfactory outcomes to aid you better.

We examine and clean every nook and corner of your gym, follow a cleanliness procedure and leave no spot uncleaned. Our precise cleaning, reliable staff and unhindered service have made us the most recommended gym cleaning service in Sydney.
Sparkleen is mindful in business dealings and cares for your health and safety. We use toxic-free eco-friendly supplies, ensuring our services have minimum impact on your health and surroundings.
Contact us now to schedule an appointment at your convenience, and let us take care of the rest. Our easy booking procedures and 24/7 communication service help us assist you at all times.
We provide a multitude of cleaning services!
Apart from gyms and fitness centres, we offer numerous other cleaning services like a range of indoor courts for various recreational/sports activities. Contact us if you plan to clean, disinfect, sanitise, or sterilise your premises!
How does disinfect your Gym by our cleaning services in Sydney?
We use antibacterial wipes for cleaning equipment
We also use disinfectant sprays for treadmills and cardio machines
We clean hotspots such as locker rooms, floors, restrooms, and other surfaces
We clean mirrors and scrub walls on the premises
Disinfecting gym mats
Vacuuming & Cleansing
What areas will the staff clean in the gym?
Our cleaning services cover the entire premise of your gym, the floor area, showers, changing rooms, walls, mirrors, equipment, bathroom areas, and other spaces.
Do the cleaning services include equipment cleaning at the gym?
Yes, the cleaning services include gym equipment cleaning. Our staff uses dry wipes to clean the exterior dust and sweat and later uses antibacterial wipes to clean the equipment.
Does Sparkleen Cleaning Services offer follow-up services?
Yes, we offer weekly, bi-weekly, or fortnightly services according to client requirements. We also try to send you the same team as per the availability to serve you better.
What is the estimated quote for gym cleaning service requirements?
To receive an estimation, contact our experts @ 0449 047 802, and our experts will get in touch with you. After assessing your requirement, our team will provide you with the approximate quote.