Highly-Experienced Commercial
Cleaners in Auburn
Sparkleen Cleaning Services provide highly-experienced commercial cleaners in Auburn who understand your cleaning needs and strive towards absolute customer satisfaction.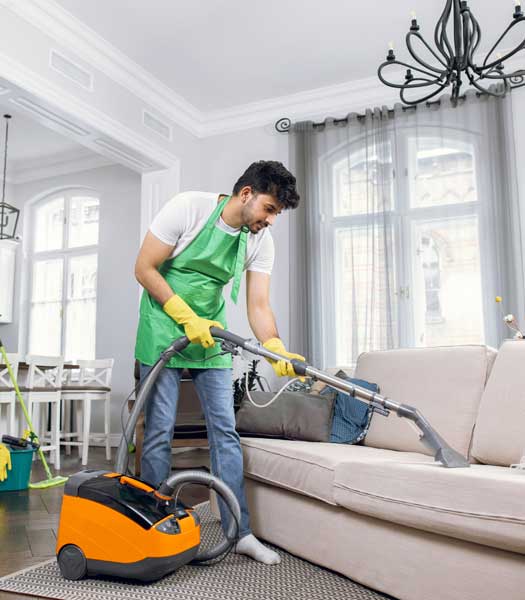 Are you looking for commercial
cleaners in Auburn?
If you are looking for skilled and trusted commercial cleaners in Auburn, Sparkleen Cleaning Services has the right people for you! Our expert staff perform all cleaning requirements with utmost ease and fulfil your demands flawlessly.
Whether you require cleaners for residential and commercial cleaning, Sparkleen Cleaning Services has the best services and staff for all your needs. Our staff excel at retail cleaning, medical centre cleaning, school cleaning, etc., and offer their best skills that exceed your expectations.
Why choose Sparkleen Cleaning Services for
commercial and residential cleaning

in Auburn?
What to consider before hiring commercial cleaners in Auburn?
The right cleaning team can make a great difference with the services they provide at your premises. Our skilled cleaners in Auburn have expertise in numerous services like end-of-lease cleaning, steam cleaning and more. We analyse your needs and deliver what we promise. Our cleaners are reliable and skilled. They are knowledgeable and know what they are doing.
If you are looking for the best-suited cleaners in Auburn, you should consider the following:
Does pricing and customisation of services suit your needs?
Are the cleaning staff well trained?
Do they know diverse cleaning processes?
Are the cleaners following safety procedures?
Are they following Standard cleaning protocols?
With Sparkleen Cleaning Services, we guarantee all the above considerations and more. Choose the best cleaners in Auburn and get outstanding results with Sparkleen Cleaning Services! To learn more about our cleaning services call us at 0449 047 802 or write to us at info@sparkleencleaning.com.au and connect with our experts. We strive to provide 24/7 customer support and aim to resolve all your cleaning-related queries promptly.
What are the Cleaning Services Sparkleen Offers?
Sparkleen Cleaning Services is well equipped to provide the best cleaning in Auburn. We use cutting-edge equipment and non-toxic supplies and thoroughly clean your premises. We offer exclusive cleaning services for pressure wash cleaning, retail cleaning, medical centre cleaning, school cleaning, and Airbnb cleaning services in Auburn. Our valued customers rely on us for excellent client satisfaction and 24/7 support, and you can call us today for any cleaning-related queries and speak to our experts. We assist you in easy service booking and provide a free quote after assessing your cleaning needs.
What is the commercial cleaning experience?
In commercial cleaning, a service provider hires professional cleaners skilled in their job and provides services at commercial establishments like hotels, offices and leisure centres. These cleaners ensure the complete sanitisation of these establishments. Commercial cleaning also involves using unique products like floor care, industrial vacuum, and more. Commercial cleaning includes hotel housekeeping, office cleaning, medical facility, window cleaning, ventilation cleaning, sports and leisure cleaning, etc.
Do you have to get carpets cleaned in the end-of-the-lease cleaning?
End-of-lease cleaning is crucial as it is a requirement that the tenants leave the property in the exact condition it was when they moved in. There are some instances when the landlord deducts the cleaning expense from the security deposit. Sparkleen Cleaning Services provides end-of-lease carpet cleaning services that help you eliminate that deduction.
Can you steam clean carpet tiles?
Carpet cleaning can be difficult. The soap scum, bacteria and dirt on your tiles can easily elude a cursory check and can be hard to remove once ingrained. Similarly, grime soaks into the tiles and requires hours of struggle to remove. However, combining intense heat and high-pressure vapours in steam cleaning your carpet tiles helps dislodge dirt efficiently. Steam cleaning tiles disinfect your tiles by killing bacteria. After steam cleaning, you can leave the tiles to dry, which takes minutes as it uses steam and not water.
How long does it take to steam-clean a carpet?
It would take about 30 minutes approximately for an experienced carpet cleaner to cover a single room. However, this time may vary depending on the additional house areas like carpeted stairs or a hallway. Apart from this, other factors like the carpet condition (old/new stains), the size of the rug, or the carpet cleaning method (steam or dry cleaning) used also affect the time taken to clean a carpet.
How often should I clean windows?
It is ideal for homeowners to clean windows at least twice a year. However, as each house is different and located in a diverse location, the number may vary. For example, a street-facing window may require cleaning more often (more than twice a year) than the windows inside the property. Sparkleen Cleaning Services' experts suggest creating a cleaning checklist to analyse the position of the windows and decide the number of times each requires cleaning every year.