Effective
Medical Centre Cleaning Services

for 6+ years!
We care about your healthcare environment and seek to provide the best medical centre cleaning in Sydney!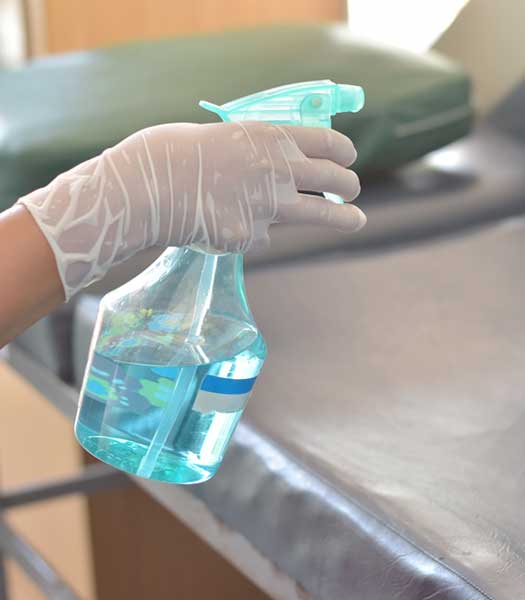 Why hire professionals for
Medical Centre Cleaning?
Our specialists offer exceptional professional medical centre cleaning services and take pride in their perfection and efficiency.
We understand the cleanliness of your premises reflects your values and marks the first impression for any visitor or patient that visits your facility. While your in-house janitors may perform their duties flawlessly, we go the extra mile to ensure disinfection, sanitisation, and sterilisation of your medical facility.
Moreover, we use top-notch equipment that may not be commonly available with the in-house staff. Therefore, if you are unsatisfied with your current in-house cleaners and would like to have a fresh start with a company that provides a clean environment at your facility just the way you take care of your patients, Sparkleen Cleaning is your answer!
Best 
Medical Centre Cleaning in Sydney!
Sparkleen Cleaning Services has been providing medical centre cleaning services in several healthcare facilities across Sydney for 6+ years. We value your needs and strive to provide the best customer satisfaction.
We are also aware of your requirements for high cleaning standards at medical centres to curb infections and provide a hygienic environment for clients, staff and visitors. We believe in thorough cleaning and ensure to cover every checkpoint in every clean.
Why choose Sparkleen, Sydney's Best Medical Centre Cleaning?
We value our customers and understand their needs.
We provide excellent cleaning services at reasonable prices
Client satisfaction is our motto
We offer well-trained staff and sustainable supplies
Our dedicated employees are always on time and efficient
Our professionals are friendly and helpful
Our hygiene protocols abide by international standards;
How does Sparkleen provide valuable Medical Centre Cleaning Services in Sydney?
Our tailored services are custom-made according to your needs and are carefully planned and executed. Experts at Sparkleen examine your demands and necessities in detail to provide a unique experience.

The staff at Sparkleen are highly efficient and skilled at cleaning and carefully disinfecting the medical premises thoroughly. Our professionals are well-trained to manage the cleaning of various surroundings and places.

We scan and clean every nook and corner of your medical facility and follow standard cleaning protocols. We clean your premises thoroughly and leave no stain.
Professionals at Sparkleen use non-toxic supplies that are safe for the environment and harmless. We are conscious of our associations and value your health and the impact of our services on your business.
Our highly proficient professionals provide top-rated Medical Centre cleaning in Sydney!

Sparkleen Cleaning Services strives to assist you in providing the most hygienic and safe environment for your medical facility. Our specialists offer highly efficient cleaning solutions and value client satisfaction above everything. We are just a phone call away. Contact our experts in case of any queries related to medical facility cleaning or to learn more about our services.
What areas do we cover under our medical centre cleaning services?
We clean entrances, reception and waiting rooms
We also clean meeting rooms, consult rooms & counselling rooms
We clean the medical consult and assessment rooms
We disinfect speciality rooms like radiology, ultrasound, testing and more.
We thoroughly disinfect toilets and change rooms
We also clean high touch-point areas like lift buttons, stairs railings, windows and more.
Does Sparkleen follow safety protocols while cleaning medical facilities?
Yes, we follow all standard safety protocols and provide precision cleaning. Our experienced professionals adhere to international guidelines and ensure complete disinfection of your premises.
Does Sparkleen offer follow-up services for medical facility cleaning?
Yes, Sparkleen offers weekly, bi-weekly or fortnightly recurring services depending on your requirement, and we even send the same team depending on the availability to serve you better.
What areas does Sparkleen cover during the cleaning process of the medical facility?
Sparkleen covers the entire premise inside out during the cleaning process of the medical centre. We follow all necessary safety protocols and standard cleaning procedures to provide the best results. At the medical facility, we clean beds, frames, armchairs, toilets, common areas, IV pump controls, waiting rooms, and more, leaving no spot untouched.