Customer satisfaction is our top priority. With over 15 years of experience in the cleaning industry, we have created a volume of highly valued customers. We customise office cleaning services to provide you with a wholesome experience!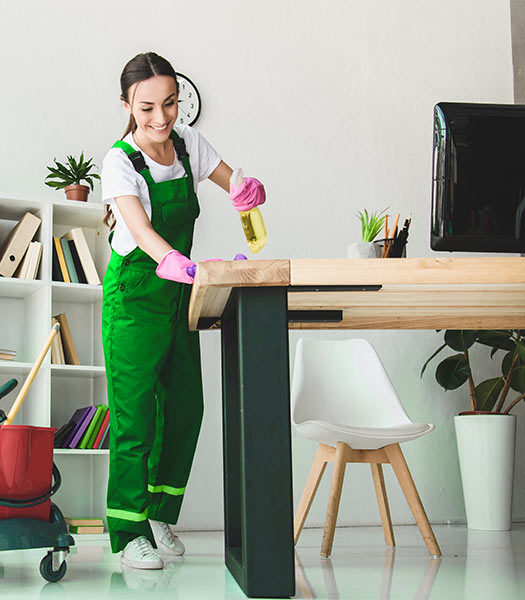 Why invest in
office cleaning services in Sydney?
Most businesses invest time and effort to ensure a clean office space that reflects their company's image.
We at Sparkleen Cleaning understand your needs and guarantee the longevity of your investment. Investing in office cleaning services is crucial as it impacts the perception of clients, visitors, and staff entering your office premises.
A clean office space presents a positive image on the visitors and creates enthusiasm among your staff. Ensuring they have a positive impression of your business right from the start will provide greater productivity within your business.
We Provide Top-Notch
Office Cleaners in Sydney!
Our primary service is office cleaning in Sydney, and we take pride in our work. We conduct all duties precisely as per client expectations.
We strive to achieve perfectness in every clean. Our bespoke office cleaning in Sydney services meet the frequency and scope of every client's requirements.
We have accomplished deep spring cleaning & sanitisation of the entire office. We provide Carpet steam cleaning, window cleaning (up to 2m), and hard floor pressure cleaning whenever the client requires them.
Why Choose
Office Cleaning Service?
We strive & to fulfil your cleanliness needs
Our reputation is as the best office cleaning service
We supply the highest quality office cleaning services
We offer affordable prices at a competitive level
Our services are tailor-made to your needs and budget
We offer 24/7 support & communication
Reliable client managers will assist you in need
Our dedication ensures excellent management skills
We have professional, efficient & reliable office cleaners
Dusting of computers
Dusting Furniture Items
Removal of rubbish and relining the bins
Dusting window sills & doors
Sanitising light switches
Spot cleaning glasses for any hand marks
Dusting skirting boards
Sanitising light switches & door handles
Skirting Boards
Tidy up the room
Edge-to-edge vacuuming and mopping
Kitchen Cooktop Cream Cleansed
Microwave thoroughly cleaned
Oven thoroughly cleaned from
Fridge cleaned from
Kitchen sink cream cleansing
Edge-to-edge vacuuming
Tidying up the benchtops
Moping with disinfectant
Cleansing steel appliances
Windows Cleaning
Window Sills Wiped
Office Washroom Sanitisation
Toilet Seat Cleaning/ Washing along with cistern
Wash basin cream cleansing/ washing
Bath Tub cream cleansing/ washing
Scum removal from shower glass soap
Shower tiles scrubbing to a mould-free finish
Windows along with sills cleaning
Scrubbing of the complete bathroom floor
Mopping at the end with disinfectant
Doors/ Door frames cleaning along with handles
Cobwebs removal
Complete bathroom wall washing
Contact Sparkleen Cleaning
Services Today!
Whether a small enterprise or a part of a large corporation, cleanliness is a must, and it is crucial to give the best first appearance to anyone who walks in through your office doors. Your office spaces need to maintain appropriate hygiene protocols. We understand these needs and take special care of you in cleaning areas inclined to be in high contact like your door handles, switchboards, tables, desks, and more. Sparkleen Cleaning provides a free quote before a detailed on-site assessment of your premises at your comfort.
Our Office Cleaning Services Include:
Dusting of computers
A dusting of Furniture Items
Removal of rubbish and relining the bins
Dusting window sills
Spot cleaning glasses for any hand marks
Dusting skirting boards
Sanitising light switches & door handles
Tidy up the room
Edge-to-edge vacuum and disinfectant mopping on hard floors.
Other Sparkleen Cleaning Services
End Of Lease Cleaning
Retail Cleaning
School/college/university Cleaning
Carpet Steam Cleaning And Deodorising
Fabric Steam Cleaning
Pressure Wash Cleaning
Floor Buffing
Do you service all types of office facilities in Sydney?
We offer a precisely created cleaning flow based on your needs. Sparkleen Cleaning Services provides a sustainable, deep cleaning service and assures complete premise sanitation.
What is the cost of office cleaning in Sydney?
The cost of office cleaning in Sydney varies based on customer demands. We provide you with a quote after carefully assessing your office premises. Contact us right away and speak to our experts to get a quote.
What services do you cover in office space cleaning in Sydney?
Our office cleaning services cover a variety of cleaning including – vacuuming, disinfecting and sanitising your office premises. We make sure to clean every corner carefully.
Do you offer recurring packages in case of continuous cleaning requirements?
We offer daily, weekly or fortnightly visits as per customer requirements. If requested, we also send you the same team for cleaning, depending on the availability.
Is Sparkleen Cleaning Services insured?
We are fully insured and secure. Our highly trained personnel have mastered the art of the finest cleaning services. In case of unforeseen damage, we are here to replace it in the best way promptly. Try our other services like commercial cleaning, retail cleaning etc.